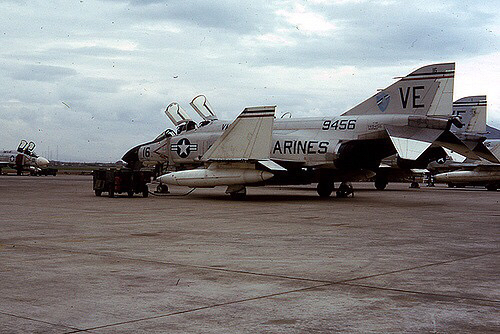 This is Captain Paul Derby's F4 Phantom #9456
The photo was taken by David Eckert, an
electrician on the jets in Vietnam. The photo was shared by Amber Gregg, David's daughter.

Paul's assignment was to Cherry Point, North Carolina, where he was stationed until he was sent to Vietnam in July 1968.

Captain Paul Derby served with Marine Fighter-Attack Squadron 115, a unit of the First Marine Aircraft Wing. He arrived in Vietnam in July 1968.

The following history paints a picture of what was happening just before, and when he served in Vietnam. He was stationed at Chu Lai, Vietnam. There, the squadron found itself engaged in support missions. During the last four months of 1967, the Silver Eagles flew a total of thirty-three
missions.

Sorties ranged from the area through the DMZ into the southern panhandle of North Vietnam.

By 1968, some of the officers had passed the 200-mission mark. Combat hours per month for the squadron reached a high of 721 and sometimes
averaged in excess of 500 hours per month.