CatTail Bottle Tree with Saplings
Phoenix, AZ

CatTail Bottle Tree with Saplings
Phoenix, AZ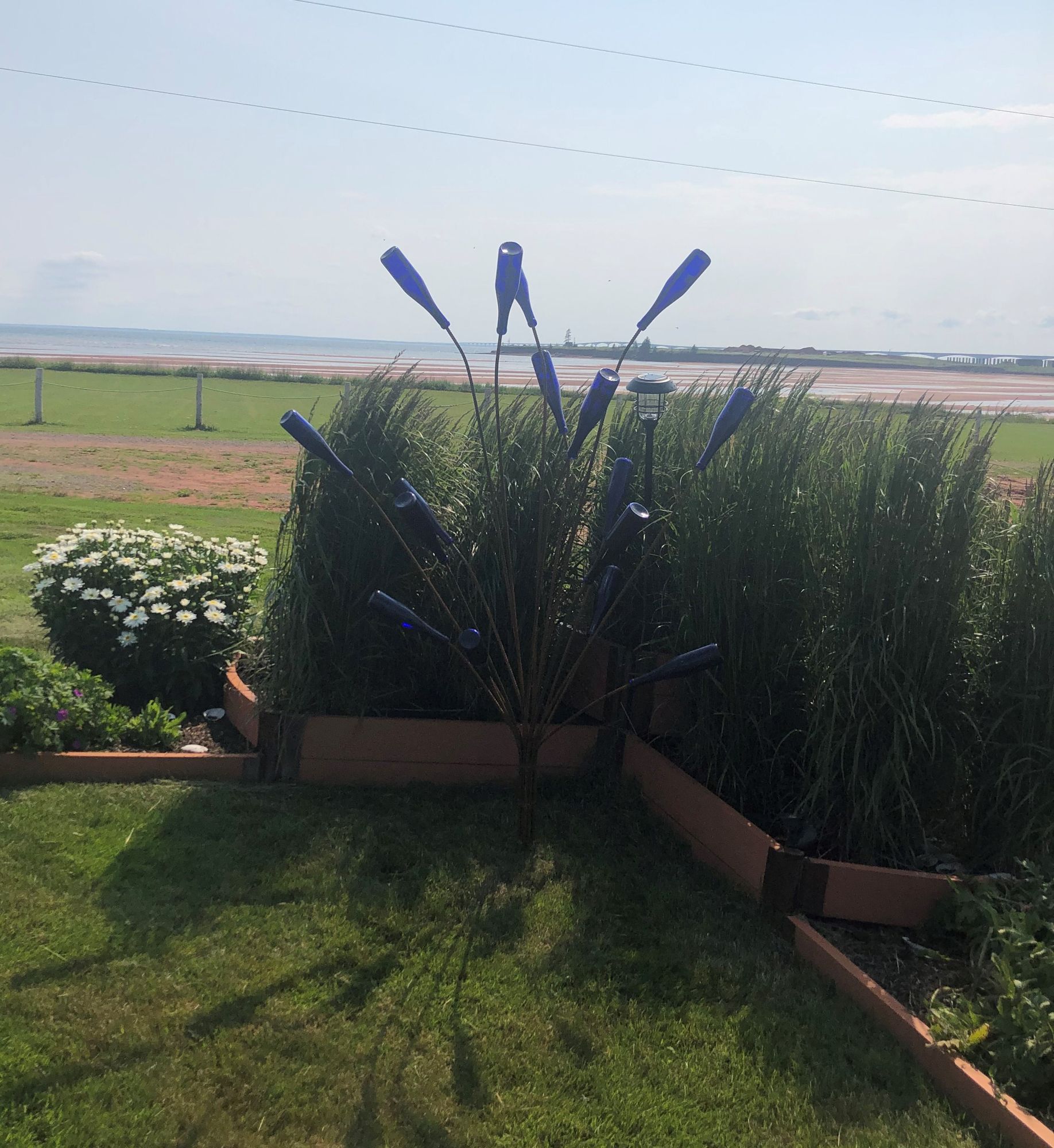 Prince Edward Island
Canada
"Thank you for your speedy service! We are so pleased with the first tree we purchased and are excited about having a second design. Original Tree has withstood two hurricanes and a flood with no problems."
Bunnell, FL



"We love love love our new bottle tree! It arrived today and we had so much fun stretching out the "branches" and arranging our bottles! Your trees are so much sturdier than others we've purchased elsewhere in the past... we will be shopping with you again soon! Thank you!"
Spencer, OH


Pine Bottle Tree
Princeton, WI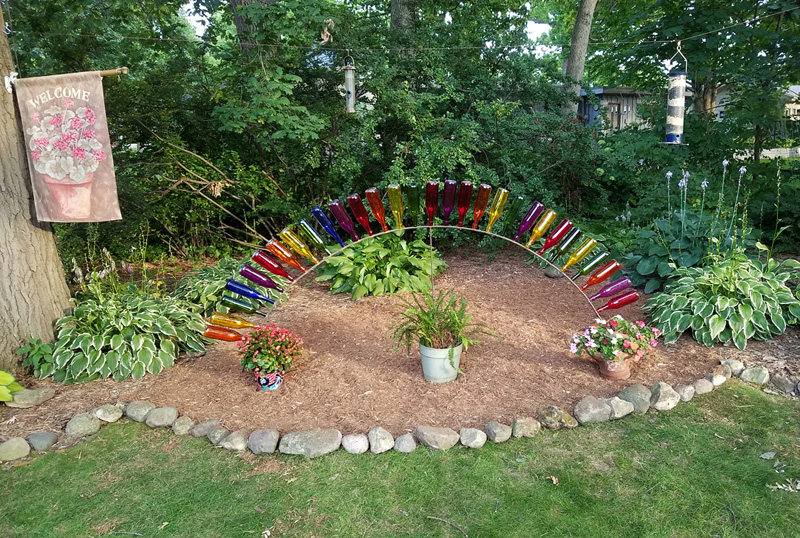 Rainbow Bottle Tree
"I wanted to show you a picture and tell you how much I love my rainbow bottle tree. It looks great!! Thanks. Waukesha, WI

"I first contacted you two years ago after reading "On Folley Beach". I just had to have a bottle tree, but wanted family members to get it for me. After two years and they never did, so I bought my own and planted it on my birthday April 11th. I am now complete! Thank you for creating my bottle tree." Monticello, KY

BottleBrush Bottle Tree
Cincinnati, OH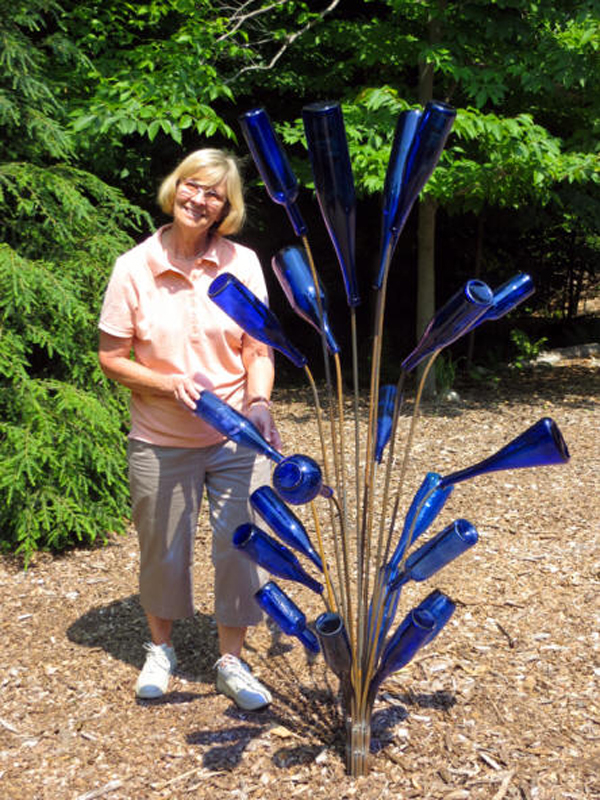 Large Fountain Bottle Tree
"Thanks again for our beautiful blue bottle tree! We love it!"
Grand Rapids, MI

Pine Bottle Tree
Houston, Texas

Hanging Bottle Tree
"Thanks for everything." Glen Flora, TX

BottleBall Bottle Tree
"I LOVE my three new Bottle Tree Creations!"
Sussex, Wisconsin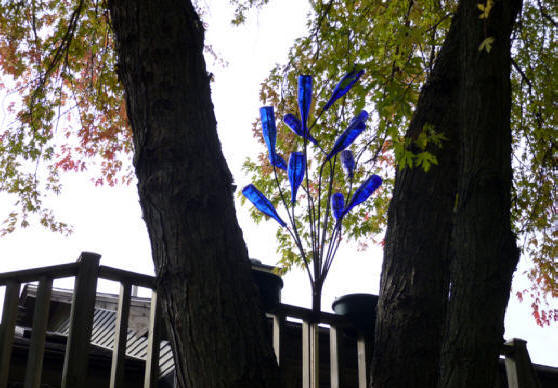 WindBlown Bottle Tree
Attached to a deck in Holland, MI

Crooked bottle Tree
Townsend, WI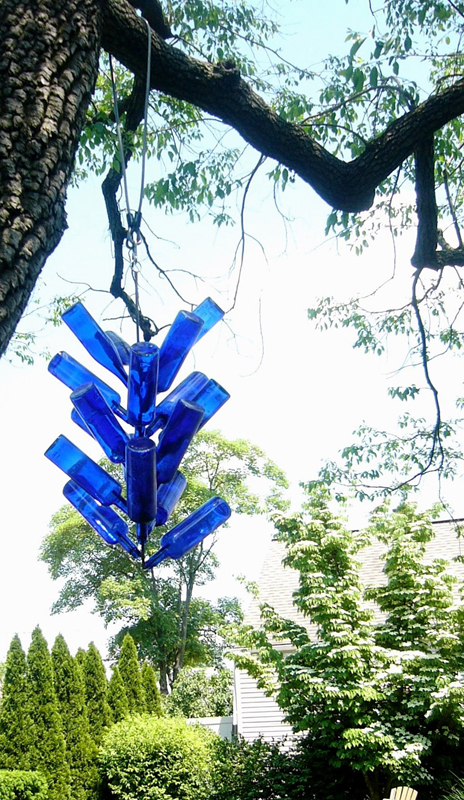 Hanging Bottle Tree
"I purchased the large hanging bottle tree for our back yard in New Jersey and we love it! Thank you for providing such a beautiful & high quality product. Blessings." Mercerville, NJ

WindBlown Bottle Tree
"She loves it! Thank you!" Hickory, NC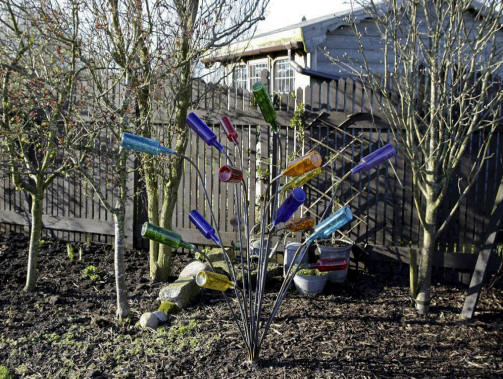 "You may recall I contacted you a couple of months ago about potentially shipping a bottle tree to the UK and it would of cost the price of a small car? I thought you might like to see my finished article! Take care and keep enjoying the gardening." United Kingdom

El Paso, TX
WindBlown Bottle Tree
"I love it ... makes me smile every time I see it."
Kaukauna, WI


5 ft. Swirl
Chatfield, MN

5 ft. Swirl
Chatfield, MN

We finished stringing the fairy lights and I?m
loving it! I can enjoy the tree on our patio, especially in the evenings.
5 ft. WindBlown Bottle Tree in
Des Plaines, IL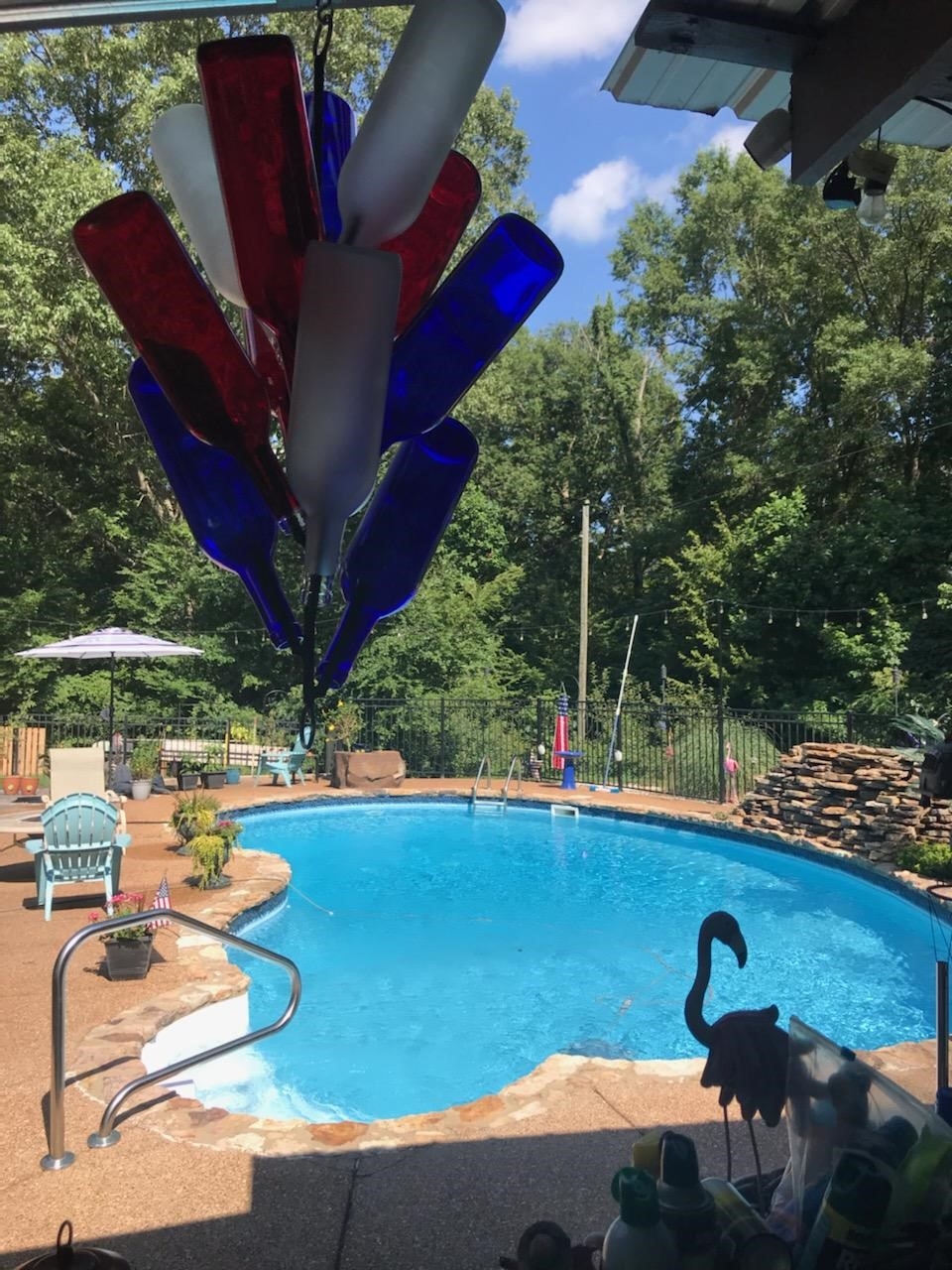 12-bottle Hanging Plant Bottle Tree
"Awsome piece you created.
Thank you so much!"
Byhalia, MS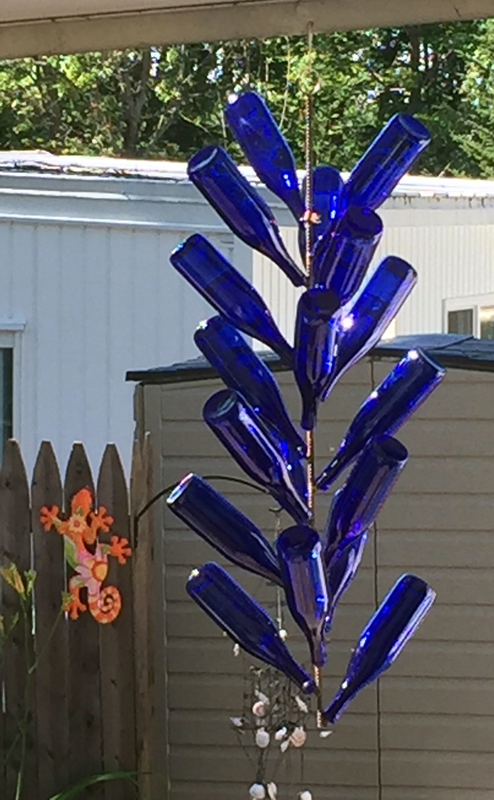 18-bottle Hanging Bottle Tree
Christmas Bottle Tree
The tree is 47" high with a diameter of 35", with bottles. It is 38" high with a diameter of 25" without bottles. The tree holds 79 bottles. "I just got my wine bottle tree up for Christmas. It's exactly as I hoped. I wanted to say a huge thank you again for the work you put in and can't wait to enjoy it for years to come."
Jaime, in Lenexa KS.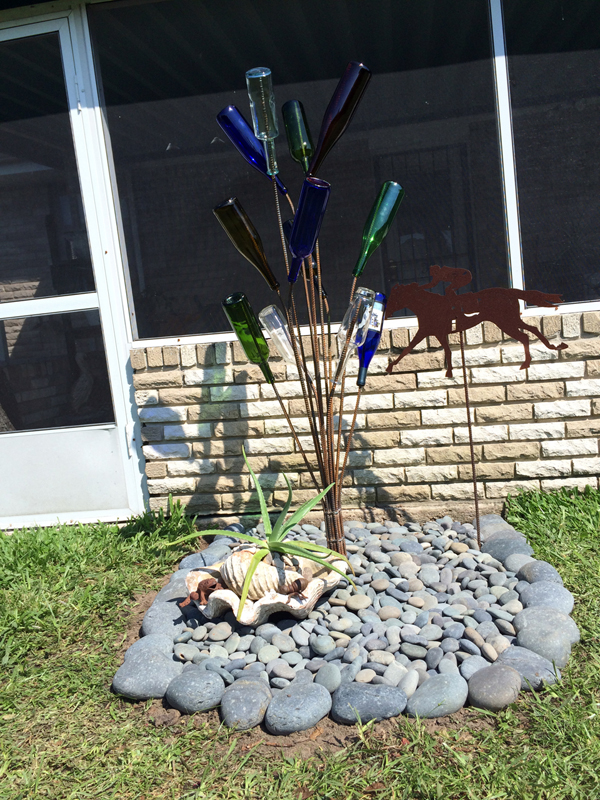 "I Just Love My WindBlown Tree!"
WindBlown Bottle Tree in New Orleans.

"A beautiful morning in Cypress. I have finally installed the bottle tree Jerry Swanson of Wisconsin sent to me during the cruel drought last year. It adds a bit of spirituality and color to my patio garden along with the multicolored Lantana just planted for the butterflies. They have been numerous and sensational this spring."
Cypress, Texas

WindBlown Bottle Tree
"Hopefully you will like the added touch of the steer skull, as that is way to Montana at times. It was a huge hit and made my wife cry with excitement. Thanks" Billings, Montana

Bird Bath Bottle Tree
"My tree was planted in a flower pot on my back deck. I absolutely love it! Thank you!"...Sandra
Hot Springs, AR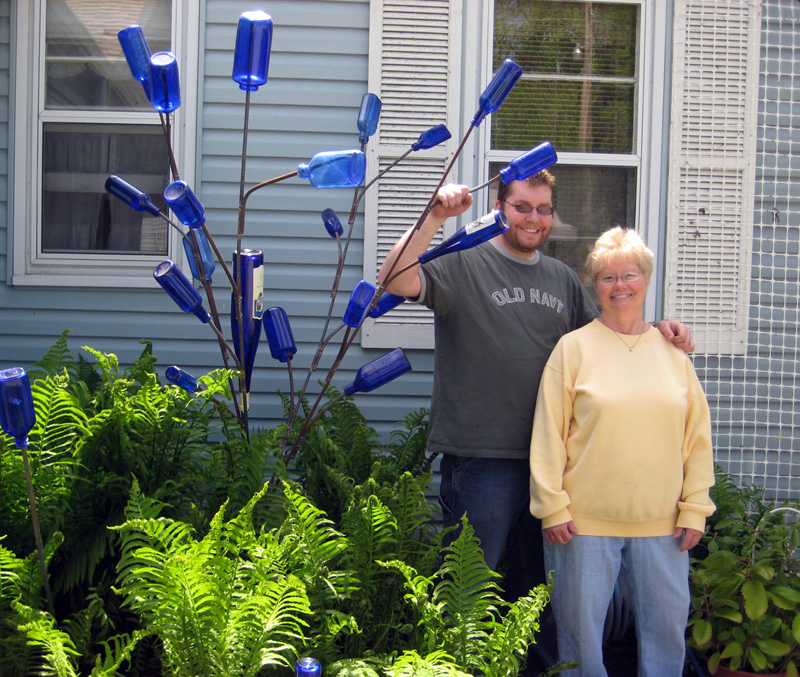 Large Cedar Bottle Tree
"Thank you very much for the tree! I am enjoying it so much! It was a great gift for my birthday!"
Fort Dodge, Iowa

WindBlown Bottle Tree
Notice we even have a fish shaped bottle! That bottle of wine was given to us at our wedding shower 21 years ago. I insisted we have some of the bottles stay blue because we know their powers! We can't wait to see the tree this winter covered in snow. Thanks again for all your piece has added to our yard. P.S. Our neighbors are jealous! Sheboygan, Wisconsin

WindBlown Bottle Tree
"Here is a photo of my bottle tree that I bought from you, hope you like it. Now make me Famous like you said you would!!" Rio Rico, Arizona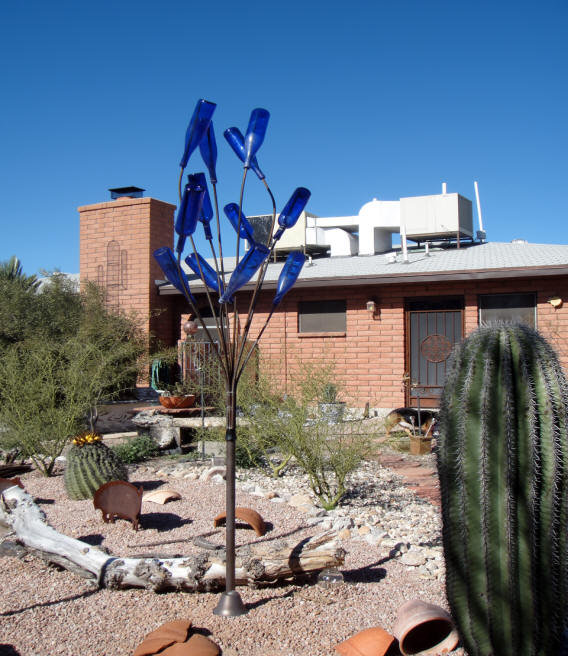 WindBlown Bottle Tree
"We used a base from a broken patio heater and buried it in the gravel. Holes are too hard to dig!"
Tucson, AZ


"Thanks again for the beautiful trees."
Scottsdale, AZ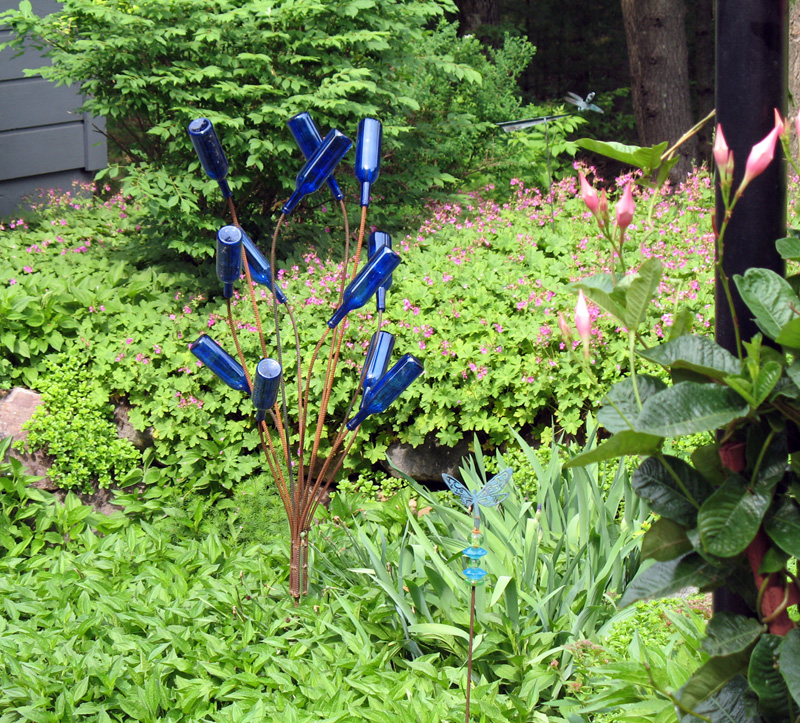 WindBlown Bottle Tree
"We have had so many complements already. We have placed it in the front of our home and every time we look out the picture windows we get to view the bottle tree."
Wisconsin Dells, WI


"A Jerry Swanson creation was planted today. My son and his family love it!!!! Thanks you so much!"
5 Ft WindBlown Bottle Tree in
Lawrenceburg, KY

Large Hanging Plant Bottle Tree
Las Vegas, NV

Coon Valley, MN


Hanging Bottle Tree
Chattanooga, TN

"Just wanted to send you a thank you for my beautiful tree. Every time I look at it makes me smile and have received many compliments on it. My friend made the special bottles for me as a gift...I thought they were perfect for the tree."
Noelle in Antelope, CA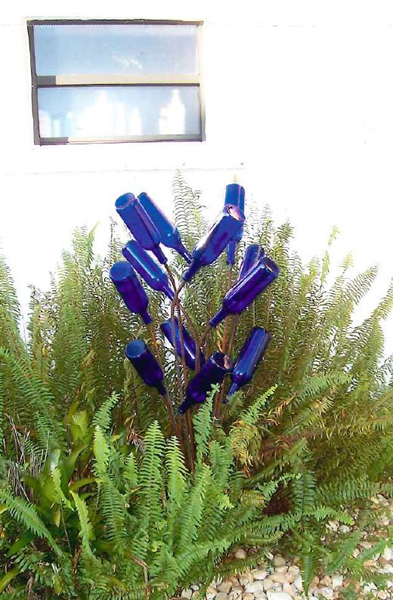 WindBlown Bottle Tree
"My friends really like it too."
Miami, Florida

WindBlown Bottle Tree
Eldorado, AR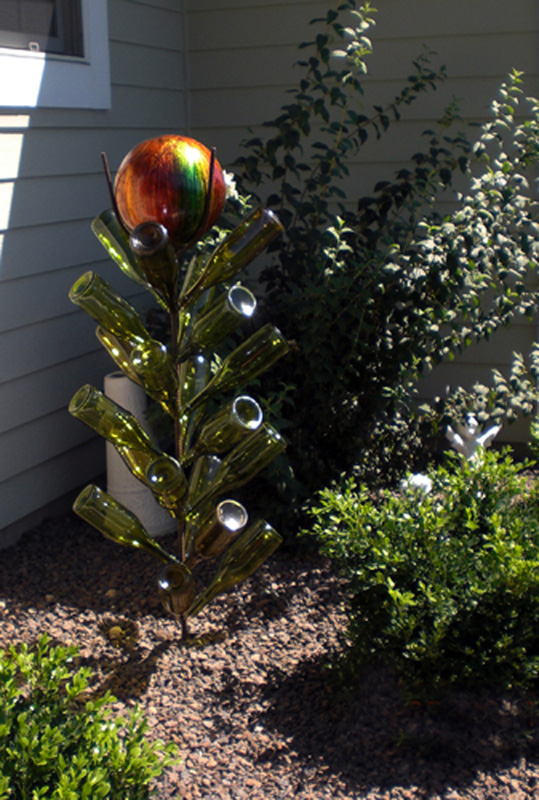 Gazing Ball Bottle Tree
"We enjoyed the ride up and back! I enjoyed talking with you and seeing your beautiful property. How peaceful and relaxing!"
Sussex, Wisconsin


Sussex, Wisconsin

WindBlown Bottle Tree
"I love it...makes me smile every time I see it. I thank you for you talent."
Ft. Worth, TX

WindBlown Bottle Tree
Attached to a deck in Holland, MI

WindBlown Bottle Tree
"Wanted to share a couple pics of it with you since it is your first in Canada. Haven't got enough bottles for it (Guess I need to drink more wine!), but our plan is to collect them as we visit different places. South Western Ontario is very good wine country."
Ontario, Canada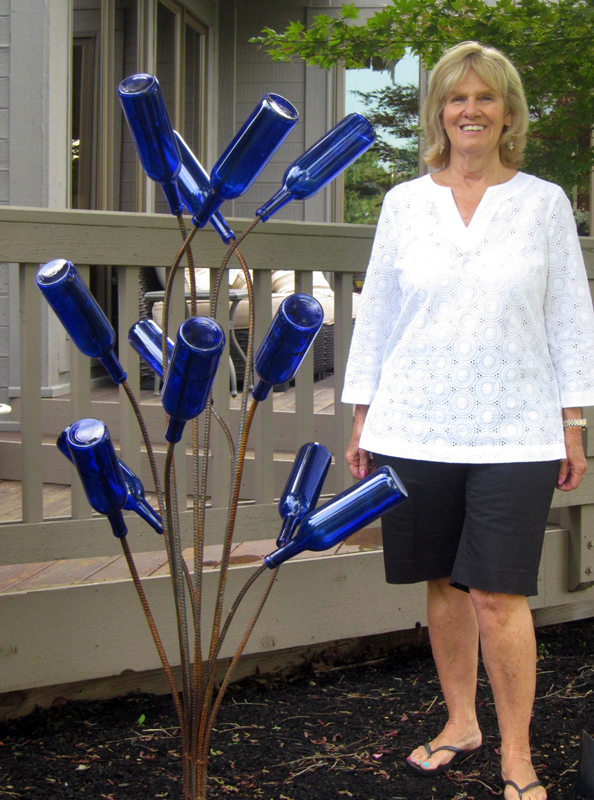 WindBlown Bottle Tree
"Absolutely loves it" Dublin, OH

"Thank you very much for working with me to get a bottle tree sent to my home in Washington State. I am so excited!! To imagine it in place there. Keep up your great and unique work-such a talent. Blessings, G", Mesa, AZ.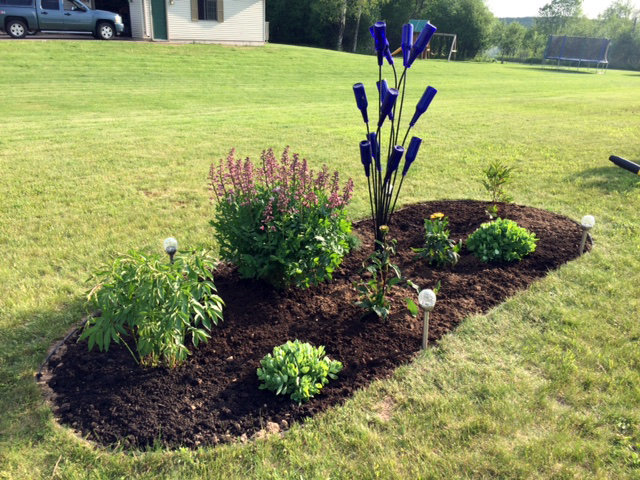 5 Ft WindBlown Bottle Tree
"Love my tree with the Bud bottles I had to empty to finish the look. It looks awesome beside my prized gas plant which is almost in bloom. Great workmanship and compact design! I love how it gives my flower bed structure, and look forward to watching it thru the seasons."
Caspian, MI


5 Ft WindBlown Bottle Tree
"It doesn't take long in Texas to plant a tree and get it established!" Mesquite, TX

Small Cedar Bottle Tree
Thank you so much! My Bottle tree is simply beautiful and a wonderful addition to the landscape. I love how the dew forms on the bottles in the morning and how it changes personality throughout the day as the sunlight changes. I need to tweek the branches a bit more but I couldn't postpone placing the bottles on it any longer. It's truly a work of art! Alpharetta, GA


5 Ft WindBlown Bottle Tree
"Jerry--thanks so much for my tree!! I grew up in Appleton, so it was especially nice to know that the tree came from Wisconsin, and was shipped from Oshkosh Here is a picture of my tree--it makes me smile when I look at it, and my backyard neighbors like it too! Thanks again.
Feeding Hills, MA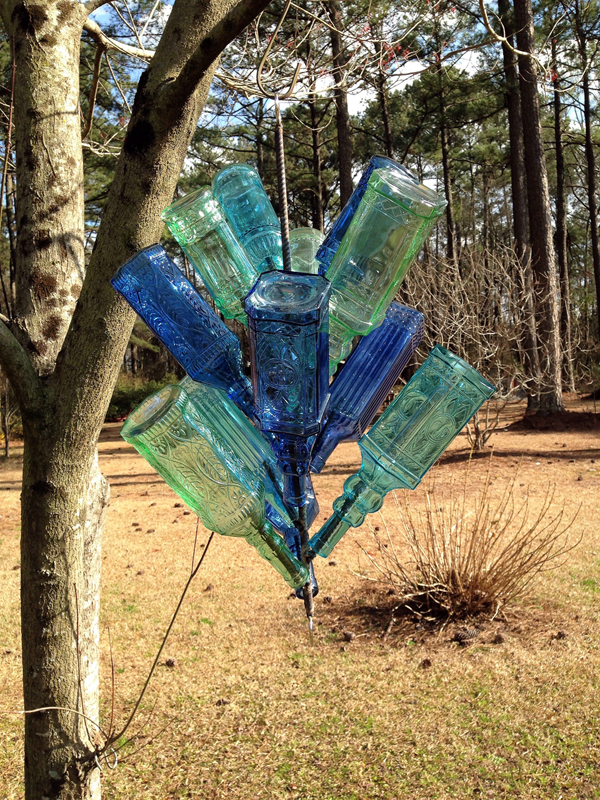 Large Hanging Plant Bottle Tree
"Thank You! I Love It!" Greenville, NC

WindBlown Bottle Tree
"Thanks! I love my new bottle tree!"
Glendale, Wisconsin

CatTail Bottle Tree
Greenvale, NY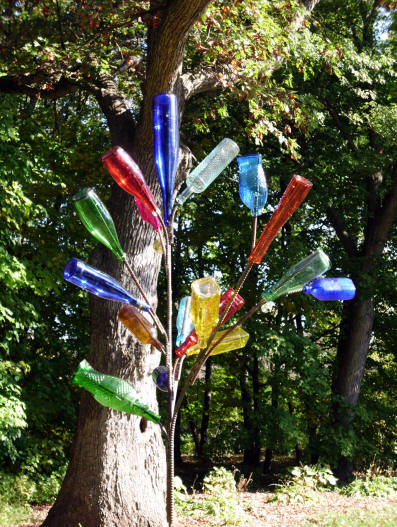 Lotus Bottle Tree
"It's up and running and I LOVE it! It's right in the middle of my back yard and makes for a great focal point. Not to mention it is so much cooler than a satellite dish. It makes me happy every time I look at it. You have made me very happy!"
Richmond, IL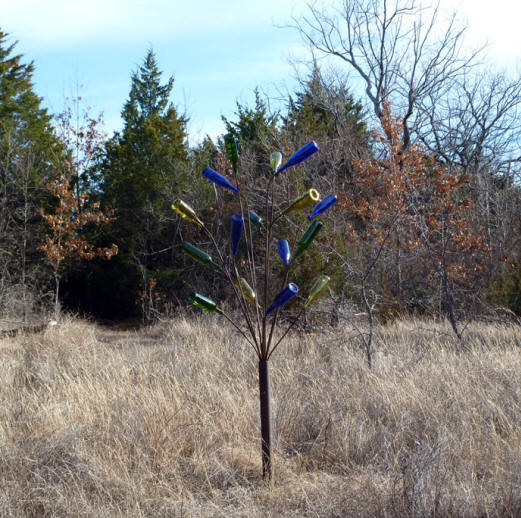 WindBlown Bottle Tree
"I had a friend out to the farm today. She's a real fan of bottle trees and she said it's one of the best looking ones she's seen...It's sort of a nice surprise out in the woods. It's survived some pretty high winds this year so far...Thanks for your creations!"
Plano, TX

BottleBrush Bottle Tree
Sylvania, OH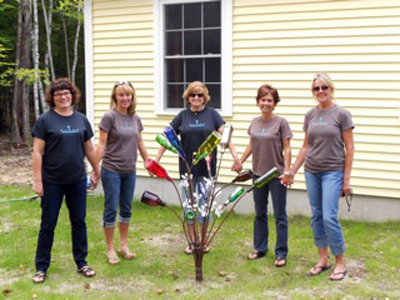 "We had a fabulous time and maybe drained a couple of those bottles! The tree is on Frye Island in Maine and several of my friends there really love this tree."
Sanford, ME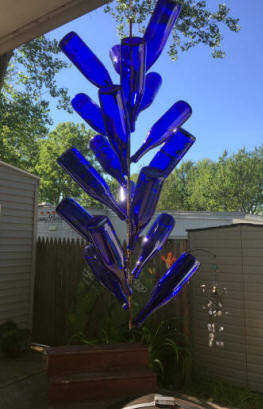 "Hi Jerry- wanted to send a pic or two of the gorgeous hanging tree I received and totally adore! Everyone at our camp at the lake loves it too! So thank you from Lake Ontario, NY"